Inspired by their visit to civil rights sites in Alabama earlier this summer, Seattle University School of Law's Calhoun Fellows assisted in writing a moving and persuasive legal brief to encourage jury diversity. If successful, the case would strengthen the right of defendants to have a jury drawn from a jury pool that reflects a fair cross section of the community.
The document, an amicus brief in support of the defendant in the case State v. Rivers, was filed at the Washington Supreme Court on July 29.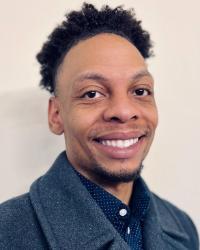 "I believe we put together a powerful amicus brief," said Marcel Baugh, a rising 2L. "No matter the outcome, I am proud to have worked on this brief that challenges the current legal standard that has permitted the exclusion of Black residents from jury service."
The annual Calhoun Family Fellowship was established in 2018 by Jerry Calhoun, a 1967 graduate of Seattle University, and was inspired by his association with the Equal Justice Initiative (EJI) in Montgomery, Alabama, and admiration for noted civil rights attorney Bryan Stevenson.
The program is part of the Fred T. Korematsu Center for Law and Equality, where co-assistant directors Jessica Levin and Melissa Lee oversaw and mentored the five fellows. The amicus brief served as a capstone project and was filed on the last day of the 2022 summer fellowship.
Although Washington state's justice system has measures in place to confront unconscious racial bias and keep diverse jurors from being unfairly dismissed from service, those measures are of little use when the original jury pool is overwhelmingly white to begin with, the fellows wrote in their brief.
The case seeks to create a clear, more protective standard that would allow defendants to request a new pool of jurors if they establish that a group is impermissibly underrepresented in the prospective jury pool, also known as a venire.
Baugh said the visit to EJI's headquarters and Legacy Museum drove home the country's shameful history of all-white juries convicting Black defendants, which sometimes led to public lynchings.
"Assisting the Korematsu Center with this amicus brief felt empowering because we addressed King County's exclusion of Black people from jury service — a systemic practice of exclusion central to the racial violence memorialized at the Equal Justice Museum," he said.
Working together with guidance from Levin and Lee, Baugh and the four other fellows — Leslie Burnett '24, Naomi Rothenberg '24, Jean Russell '24, and Talia Starr '24 — gathered empirical data and key facts to craft a persuasive legal argument.
"Ensuring that a defendant can effectively challenge underrepresentation of distinct groups in jury venires will help counteract the historical and continuing exclusion of Black people from jury service," the fellows wrote in the brief. Such a measure would also "increase the likelihood that a diverse jury is empaneled on any particular case, promising a more thorough deliberative process that ensures greater fairness."
Other groups joining the amicus brief include the American Civil Liberties Union of Washington, the King County Department of Public Defense, and the Public Defender Association.