It's not unusual for law school alumni to tell Professor Laurel Currie Oates '78 they can still hear her voice.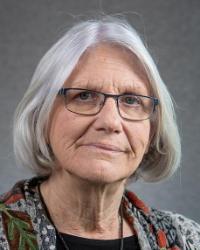 "They tell me that it feels like I'm sitting on their shoulder, and they can hear me talking into their ear," she said, laughing. "They hear me say things like 'you can make that point more concisely' or 'this paragraph doesn't follow logically from the prior paragraph.'"
She's okay with that. After teaching legal writing for nearly four decades, and building the country's preeminent legal writing program, it comes with the territory.
Oates retired this year, prompting well wishes from colleagues near and far and reflections on the tremendous impact she's had on legal education over the course of her illustrious career.
In conferring emerita honors to her during the law school's 2021 Commencement Ceremony, Seattle University Provost Shane Martin praised her as a "visionary" who is "perhaps the single most important figure in the development of the modern discipline of legal writing."
Oates directed the Legal Writing Program from 1982 to 2012. In the years since U.S. News and World Report started ranking the nation's legal writing programs in 2005, Seattle University School of Law has ranked first or second 14 times.
As the author or co-author of the nation's top legal writing textbooks — including "The Legal Writing Handbook" (now in its eighth edition), "Just Research," "Just Memos," "Just Briefs," and "Just Writing" — she's likely the voice on the shoulder of lawyers throughout the country.
"The main thing I want students to remember is audience and purpose," she said. "That will help guide all of the many decisions they need to make in the process of doing research and writing. And it's harder than you might think."
Dean Annette Clark '89 said she counts herself fortunate to have been among Oates's students. "Laurel was a marvelous teacher — one of the best. She helped me gain confidence in my writing and opened my eyes to the fact that one doesn't need to be the loudest person in the room in order to be a powerful legal advocate."
With Professor J. Christopher Rideout, who also retired this year, Oates developed a unique approach and structure to the law school's legal writing curriculum, guided by the principle that for a lawyer, writing is much more than just grammar and punctuation. It's also persuasion, narrative, guidance, and logic.
The program reinforces the fundamental tenets of good legal writing with one-on-one coaching, a curriculum that includes writing projects for real clients, and advanced writing elective courses for upper division students.
Professor Emerita Connie Krontz '89 was both Oates's student and, later, teaching colleague. "Her knowledge, skill, and student-centered approach to teaching were key to my preparation for the practice of law," Krontz said.
When she returned to the law school to teach legal writing after several years in practice, Krontz appreciated Oates's "true team effort" approach to teaching. "She was a mentor, colleague, and friend, and I am grateful for having had the opportunity to work alongside her for 25 years," Krontz said.
Oates graduated from University of Puget Sound School of Law (now Seattle University) in 1978 and clerked for the Washington State Court of Appeals before returning to her alma mater to teach legal writing.
Beyond the walls of her own law school, Oates helped foster a professional community of legal writing faculty, organizing the country's first-ever legal writing conference, which was followed by dozens more over the years. She also co-founded the Legal Writing Institute, which now has more than 2,400 members. Her colleagues at the law school praised her patient and generous mentorship and guidance of new legal writing faculty who have gone on to contribute to the culture of excellence she created.
It was an emailed inquiry to the Legal Writing Institute 15 years ago that launched a rewarding international chapter to her career as an educator. Lawyers in Uganda were in search of professional assistance to develop their writing skills, and Oates accepted the challenge, developing and teaching a writing workshop for lawyers there. She has since taught courses and workshops on legal writing in Afghanistan, Botswana, China, Ethiopia, India, and Liberia, and has hosted programs for both students and lawyers in South Africa. In 2018, she helped design an online certificate program for international lawyers looking to improve their writing skills.
Over the years, Oates's work in legal writing education has garnered significant accolades, including the Burton Award for Outstanding Contributions to Legal Writing Education at the Library of Congress in Washington, D.C. in 2007; the Marjorie Rombauer Award for Contributions to the Teaching of Legal Writing in 2009; and the Tom Holdych Award for Meritorious and Transformational Service in 2012. In 2016, she received both the Global Legal Skills Award and the Terri LeClercq Courage Award.