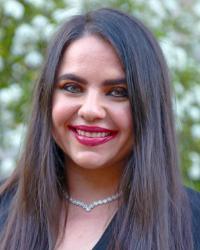 Seattle University School of Law student Timea Soos joined a spring semester cohort of inaugural fellows from 33 consortium member law schools supporting a multidisciplinary approach to policing, as part of the American Bar Association's Legal Education Police Practices Consortium (LEPPC). The ABA formed the consortium in 2020 to contribute to the national effort to examine and address legal issues in policing and public safety.
Advised by Professor Robert Chang, executive director of the Fred T. Korematsu Center for Law and Equality, Soos's research was focused on gathering data which will be compiled in a publicly accessible clearinghouse of policing data. She explains, "As a trained qualitative and quantitative researcher, I am looking forward to leveraging data insights gleaned during the fellowship to identify and support effective police practices. It is critical that legal education be forward thinking and innovative not only in pedagogy but also in the leveraging of key community partnerships to build a pipeline of strong advocates for justice."
Professor Chang explains, "The Korematsu Center's work on advancing civil rights and equality through both direct representation and amicus brief advocacy aligns with the aims of the Consortium." Of particular resonance is the Korematsu Center's past and current work on the Race and Criminal Justice Task Force. Director and Professor Chang's statistical analysis notes the race disproportionality within Washington's criminal justice system in Race and Washington's Criminal Justice System Task Force 2.0, a 2021 report to the Washington Supreme Court.
Legislative action in Washington includes HB 1735, signed into law on March 4, 2022, and HB 2037, signed into law on March 17, 2022. The new laws focus on modifying the standard for use of force by peace officers. Law students are in the unique position of identifying both the legal and policy implications of changes in state law. Soos concluded, "I feel strongly that an intersectional and interdisciplinary legal curriculum examining the disparate impacts of race, gender, and class in policing is necessary if we are to advance justice within the criminal legal system."