Seattle University School of Law faculty scholars and administrators provided valuable leadership and academic insight at the American Association of Law Schools (AALS) annual meeting in San Diego, California, last week.
Faculty's recent books and law review articles were prominently featured at the law school's evening reception on the third day of the meeting, a popular, well-attended, and lively event that featured the music and tastes of the Pacific Northwest — including "espressotinis" and salmon — with the theme of "legal educators who swim upstream."
The AALS is the leading organization representing 176 law schools in the United States, and its annual conference is the marquee event for thought leaders, top scholars, and trend setters in legal education.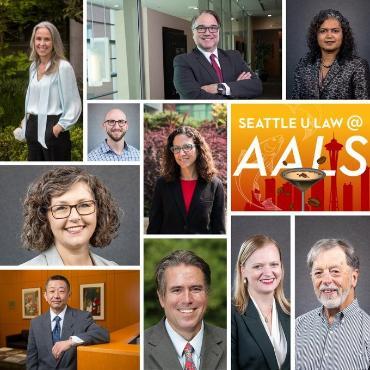 Dean Anthony E. Varona led the Seattle U Law delegation and represented the law school at the AALS Deans' Forum. "I am delighted that Seattle U Law was one of the most visible and active law schools at the AALS Annual Meeting, with many of our professors and administrators sharing their scholarship and expertise, exercising their leadership, and otherwise representing us and our mission very prominently and effectively," he said.
Participating law schools included all 14 of the Jesuit law schools in the United States. Varona organized a special session with these schools' deans to discuss various concerns about national law school rankings and how they affect diversity, equity, and inclusion in legal education.
Varona also presented the AALS Michael A. Olivas Award for Outstanding Leadership in Diversity & Mentoring in the Legal Academy to Dean Kevin Johnson of University of California, Davis School of Law, at the meeting's principal awards ceremony. Varona proposed the award to AALS leadership as a way of honoring Olivas, a professor at University of Houston Law Center, who passed away last year and left behind a powerful legacy of nurturing junior faculty and faculty of color, and of advocating for more diversity in the legal academy. Varona also led the national selection committee for the award.
Other Seattle U Law faculty and administrators contributed to the AALS meeting:
Professor Deborah Ahrens, vice dean for intellectual life, spoke on the panel, "Assessing the Impact of President Biden's Marijuana Actions." Ahrens was elected chair-elect of the AALS section on evidence.
Professor Steve Bender, associate dean for planning and strategic initiatives, organized and hosted a dinner for Latina/o/x law professors and allies, an event that also served as a memorial for Olivas and was attended by his widow. Bender also spoke on a civil rights section panel on centering antiracism and related forms of systemic advocacy in the curricula and cultures of U.S. law schools.
Visiting Assistant Professor Kathryn Boling, acting associate director of the Legal Writing Program, was a panelist for "Disability: Engaging with an Often Overlooked Diversity Dimension in Our Classrooms."
Professor Robert S. Chang, executive director of the Fred T. Korematsu Center for Law and Equality, spoke on a panel titled, "On Being an 'Other' in the Classroom, Law School, and University."
Brooke D. Coleman, the Fredric C. Tausend Professor of Law, spoke on the panel for "Beginnings, Middles, and Endings: Planning Your Classes, Your Courses, and Your Career" and moderated the panel on "What's In, What's Out: How to Teach Civil Procedure in an Increasingly Crowded Curriculum."
Kristin DiBiase, associate dean for student affairs, was elected secretary-treasurer of the AALS section on law and mental disability. Last year, she sat on the executive committee for the section.
Visiting Assistant Professor Amanda M. Fisher spoke on two panels: "New Voices in Sexual Orientation and Gender Identity Law" and "Don't Stop at the D: Incorporating the E(quity) and I(nclusion) of DEI Into Law School Teaching."
Associate Professor Sital Kalantry, associate dean for international and graduate programs, spoke on the panel "Does the US Constitution Have an Unamendable Core?" and moderated the panel "Urgent Issues in Human Rights Law in a Post-Pandemic World: Has the Pandemic Changed What and How We Teach Human Rights?" Kalantry was also named chair of the South Asia law section and secretary of the human rights section.
Professor John B. Kirkwood served on the AALS House of Representatives and moderated a panel on "New Threats to Antitrust Enforcement."
Associate Professor Jeffrey Minneti, director of the Academic Resource Center, was appointed to serve a two-year term on the AALS teaching methods section executive committee.
Colin Watrin, director of institutional engagement and special assistant to the dean, presented as part of a panel for the AALS section on part-time divisions about building equity into evening, weekend, and part-time JD programs.