Seattle U Law prepares lawyers for opportunities, challenges in technology sector
This story originally appeared in Lawyer, Spring 2023.
When Mark Zuckerberg founded Facebook in 2004, he coined a phrase that became the unofficial motto for not only his company, but the technology industry in general — move fast and break things.
In other words, a lawyer's worst nightmare.
As the industry has grown and matured, so has that philosophy. The pace is still speedy, but there is increased appreciation for what's worth breaking and what isn't. Lawyers have become an important way tech companies identify smart risks, and Seattle University School of Law's curriculum has evolved in recent years to prepare graduates for both the pace and mindset of working in tech.
"Our goal is to situate lawyers within the promise and opportunity of technology but also give them an awareness of the potential ethical shortcomings in those business models," said Professor Steven Bender, one of the two faculty co-directors of the law school's program on Technology, Innovation Law, and Ethics (TILE), a new marquee initiative launched by Dean Anthony E. Varona.
Professor Margaret Chon, who co-directs the TILE program with Bender, said legal uncertainty makes lawyers even more crucial: "Lawyers are pivotal in counseling companies toward good business decisions that are also soundly based in legal principles and ethical norms, even when the law is still running to catch up with the technology."
Along with Professor Steve Tapia, distinguished practitioner in residence, Bender directs the Summer Institute for Technology, Innovation, and Entrepreneurship, a collection of four courses that help students understand what the tech industry needs from lawyers, and how to provide it. The courses cover artificial intelligence, the role of in-house counsel, and how to advise start-ups. But the program's anchor is a weeklong immersion course, originally developed by Bender, Chon, and Tapia in 2015. The course features case studies and visits from attorneys at companies and nonprofits like the Allen Institute, Expedia, and T-Mobile, as well as small and emerging startups.
"Seattle is a growth market for attorneys that can help these companies," Tapia said. "As all these companies mature beyond start-up stage and initial public offerings, they need the assistance of more and more finance and legal professionals to manage their intellectual property portfolios, risk management programs, securities regulatory compliance, and corporate structure."
The law school also offers a Master of Legal Studies (MLS), a Master of Laws (LLM) in technology and innovation, and a newly approved Doctor of Juridical Science (SJD) degree. Students can choose from a multitude of courses, internships, externships, and clinical opportunities, as well as participate in the Seattle Journal of Technology, Environmental & Innovation Law and various student organizations.
Key TILE faculty include Bender, an expert in real estate law; Tapia, who practiced entertainment, media, and intellectual property (IP) law for over 30 years; Chon, a renowned IP scholar; Professor Mark Chinen, whose international law expertise includes artificial intelligence; as well as numerous other career and adjunct faculty. In addition, the school hosts many visiting speakers from the area's pioneering software, biotech, and Internet organizations.
Learning a lawyer's role
Thanks to powerhouse companies like Microsoft, Amazon, Valve, and Wizards of the Coast locating their headquarters in the greater Seattle area, other tech businesses congregate where they can find the engineering, product development, and research expertise they need. Facebook (Meta) and Google built large satellite offices in Seattle for that reason.
For decades, traditional legal disciplines like intellectual property, taxation, contracts, and business entities have provided a solid foundation for attorneys working in technology. But Tapia said the law school's tech-centered programming goes even deeper, acknowledging that tech companies often move faster than laws and regulations can keep up.
"We teach classes that give our students a great sense of what those moves into unregulated space look like from the inside and what a lawyer's role in those spaces should be," he said. "We talk about ways to think about those new businesses and how to serve them well as lawyers."
For alumni who have completed the immersion course and since moved into tech careers, that unregulated frontier is a feature, not a bug (to borrow a bit of tech lingo).
"I love a good puzzle," said Alex Gorton '19, associate corporate counsel at Amazon, where she supports the Prime Gaming division. "It's like that with technology. I love the challenge of it. It's the same exercise from law school of identifying a fact pattern and applying the law, but the law is relatively new and still emerging."
Beyond guiding students through the uneven terrain of technology law, courses offered through the TILE program provide an important bridge between attorneys and developers. These courses explain enough of how the technology works for the attorneys to be taken seriously.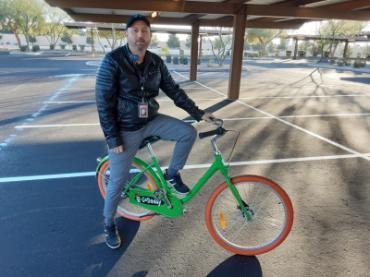 That acceptance is crucial, said Alejandro Villegas '15, who came to law school from a career as a security engineer at Microsoft and now serves as vice president of product security at GoDaddy, an Arizona-based web hosting and domain registration company.
"Engineers don't naturally gravitate toward lawyers. The lawyers are the ones in suits, and the engineers are wearing hoodies and shorts," he said. "It sounds silly, but it makes a difference. It's important for attorneys to be approachable. The immersion course helps you understand those cultural norms, as well as the client's business needs."
Don't say 'no,' ask 'why'
A good rapport between lawyers and developers (or coders, or engineers) saves businesses time and money, said Jerry Vergeront '17, director of Information Risk and Cybersecurity at Seattle University.
"If you have the ability to talk to people from a technical standpoint, they'll actually talk to you instead of avoiding you," he said. "You'll be able to guide the technology as it's being developed, rather than having to redo it at the end because you've just discovered it's out of compliance with a law or regulation."
Chon said this is especially crucial in an industry that moves so fast. "With technology developing so rapidly, it's even more critical to highlight the ethics, values, and even the social justice issues relevant to evolving legal norms," she said.
Too often, the legal department is seen as the place where great ideas go to die. But Bender said good lawyers don't say "no" — they ask "why?"
"Our students use this approach not because they don't understand business, it's because they want to help build a better, more ethical and sustainable business," he said. With its focus on ethics, students in the immersion course have studied and accurately predicted the legal woes of companies like Theranos, whose founder was convicted of fraud; and Uber and Airbnb, which both had regulatory compliance issues.
"It's not about no," Villegas said. "It's about providing options. It's about transparency. As much as we always want 100% certainty with no risk, that doesn't exist. There's always going to be some tradeoffs."
Patrick Chinkiwsky '16, senior patent portfolio manager at CoMotion at University of Washington, remembered how Tapia warned his immersion class that at times they might feel like "the adult in the room," or the keeper of the industry's cautionary tales.
"There are so many examples in tech where people got a little too excited about making something a success and didn't think through all the implications," he said. "But I'm an optimist that way. I think things get worse before they get better."
'An innovator at heart'
For Leticia Hernández Walker '15, corporate counsel at Microsoft supporting the Windows team, the creativity to avoid saying "no" comes from an unexpected source — her childhood as the daughter of Mexican immigrant farmworkers in Eastern Washington and her identity as Latina.
"I'm an innovator at heart because I've had to innovate myself. All my life, I've been told no, so I've had to be creative and resilient to open up those windows of opportunity," she said. "That's how I approach my job as a lawyer at Microsoft. I try to think of how we can find ways to creatively support the innovation of emerging technology while mitigating the legal risks."
Walker practiced family law and worked in the King County Prosecuting Attorney's Office before coming to Microsoft, a move suggested by her mentor, Catherine Romero '96, a senior attorney at the Redmond-based tech giant. Romero founded the Hispanic National Bar Association/Microsoft Intellectual Property Law Institute, a summer immersion program in Washington D.C. that has helped many Latinx law students – including Walker — dip their toes in technology law.
Relatedly, Chon said the intellectual property community in Seattle has been a hub of sorts for tech attorneys and interested students. For example, the Seattle IP Inn of Court meets monthly and offers robust mentorship opportunities for students in the Seattle area. Students at the law school have developed several tech-related organizations, including the Intellectual Property Law Society. Chon worked closely with the late Judge Donald Horowitz and others on the Access to Justice Technology Bill of Rights, one of the first in its kind in the country and adopted by the Washington Supreme Court.
For Rachel Sindorf '19, associate corporate counsel at Denali Advanced Integration, the focus of her legal work has not been IP but international shipping and the value-added tax, often referred to simply as VAT, among myriad other issues. Her company makes software products that integrate otherwise incompatible technologies.
She said the immersion course was the linchpin in her decision to seek an in-house counsel position at a tech company, due to the collaborative nature of being part of a team and the variety in the day-to-day work.
Thanks to the course, she was also prepared for how different lawyering can be in a tech environment. "I've never had anyone ask me for a case citation or a memo," she said. "My leadership needs actionable, quick advice. The emails I write are one to two lines, three bullet points at most. If you can't put it in three bullet points, you can guarantee it's not the information they need."
She also pointed out that business executives at tech companies have little patience for that classic lawyerly answer to any question: It depends.
"They're looking for ways that we can structure deals or transactions that may be a little risky but at least we've identified those risks," she said. "We either accept those risks or decide to nix the project."
Gorton, at Amazon, agreed. As much as an attorney might want to write a 10-page analysis of an issue, the business client doesn't want to read it.
"You look at a problem with a legal lens. Then you look at it again with a business lens," she said. "The tech immersion program really helped us understand that."
This, Tapia said, is exactly the kind of legal thinking the tech industry needs: "Companies want people who understand business needs and are willing to push hard on expanding what is acceptable risk for new businesses."
A glimpse of the future
And what's in it for the lawyers? Challenge, innovation, and the chance to be part of something that feels like the future.
Bender, whose academic work centers around immigration law and property law, came to develop the technology curriculum in his role as associate dean for planning and strategic initiatives at the law school.
"We found that it's the most participatory class we teach," he said. "These are the things people are talking about outside of law school, more so than the arcane doctrines that I also love to teach."
Tapia echoed that sentiment. "Students are excited to ponder legal problems that do not have existing answers," he said. "The ability to play in a blue sky thought process excites many of them in ways that carry forward into their post-law school experiences."
That's one of the best parts of Chinkiwsky's work at CoMotion. He is responsible for strategizing and securing IP on a portion of the technologies developed at UW that have some pathway to commercialization. He often encounters ideas and products that could eventually solve pressing global problems. One example is Zap Energy, a company that licensed UW technology for its ongoing effort to create a compact, affordable source of clean fusion energy.
"It's inspirational, working day to day with university researchers trying to solve big problems," he said. "To have any small part in the commercialization of paradigm-shifting technology and energy is pretty cool."
Tech law pioneer: Joleen Winther Hughes
Alumna spent eight years building revolutionary services at RealNetworks
In the spring of 1999, "google" wasn't yet a verb. Amazon only sold books. Cell phones were just phones. And Joleen Winther Hughes had just graduated from law school.
In the days before Seattle University School of Law offered courses and programs tailored to students interested in technology careers, alumni like Hughes managed to make their own way in the field. She was one of the earliest graduates, possibly the first, to go directly in-house at a tech company after graduation when she walked in the door at RealNetworks, originally known as Progressive Networks.
An eight-week internship during law school became an eight-year job, where Hughes contributed to the creation of the first legal music service, the first casual gaming platform, the first audio/visual subscription service, and the first video on demand services in the world.
"I shifted my original idea of becoming an entertainment lawyer to learning technology and business," Hughes said.
"The law was non-existent for so much of what was happening. I really got my sea legs through the work. I went on to oversee and develop the licensing models to bring music, gaming, sports, news, television, and movies online."
Her experiences at RealNetworks led to the next pioneering step in her career when she founded her own law firm in 2008, now known as Hughes Media Law Group, to serve the media and tech sector. Her clients have included pioneering companies in the areas of gaming, music, education, and cloud computing.
Her goal is to provide outside counsel that feels like it's in house.
"I view legal as a business accelerator. It's a different mindset," she said. "We integrate at the executive level, so we know what's coming up. We are also proactive and work with senior executives to set the company up successfully for their long-term goals. Tech companies can be better off by working with lawyers who have business acumen."