Seattle University School of Law is pleased to announce the addition of two Ivy League law professors to its faculty. Eduardo Peñalver, former dean and professor of law at Cornell Law School, who was named the next president of Seattle University, will hold an appointment as a tenured professor of law. Sital Kalantry, a clinical professor of law at Cornell, will join the law school as a tenured associate professor, teaching contract law and comparative constitutional law. Both officially begin their positions on July 1.
"It is to the great benefit of our students, our law school, and our university that such exceptional legal educators, public intellectuals, and theorists as President-elect Peñalver and Professor Kalantry will be members of our career faculty," said Dean Annette E. Clark. "They both have a deep understanding of the role of law in society and the importance of preparing the next generation of lawyers to be powerful advocates for justice and champions of the rule of law."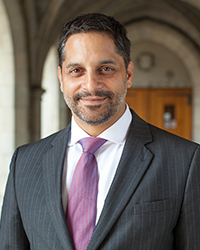 Peñalver was named the Allan R. Tessler Dean of Cornell Law in 2014, becoming the first person of Latin-x heritage to lead an Ivy League law school. During his tenure, he guided the school through one of the most turbulent periods for American law schools in living memory, in part through a successful fundraising campaign. During the same period, the school improved the credentials of its incoming classes while increasing the diversity of its student body. It also launched new clinical and academic programs in Ithaca, New York, in New York City, and online. Under Peñalver's leadership, Cornell Law School faculty have been principal investigators on federal grants and have secured millions of dollars in grants from private foundations.
"I couldn't be more excited or proud to be joining the Seattle University School of Law community, due to its recognized commitment to racial justice and its mission to provide a legal education for lawyers dedicated to the service of others," Peñalver said.
As a professor, he has explored the way in which law mediates the interests of individuals and communities. His scholarship focuses on property and land use, as well as law and religion. In addition to numerous articles that have appeared in leading law journals, Peñalver has co-authored two books: "Property Outlaws" and "An Introduction to Property Theory."
After earning his bachelor's degree from Cornell University, Peñalver received a Master of Arts in Philosophy and Theology from Oriel College, Oxford, as a Rhodes Scholar. He then earned a J.D. from Yale Law School, followed by clerkships with Judge Guido Calabresi of the United States Court of Appeals for the Second Circuit and Justice John Paul Stevens of the U.S. Supreme Court.
Kalantry is an expert in the fields of feminist legal theory, international human rights, and empirical studies of courts. Her scholarship – which has appeared in the Stanford Journal of International Law, Georgetown Journal of International Affairs, and Cornell Journal of Public Policy, among others – seeks to identify how legal norms aimed at promoting human rights sometimes undermine gender and racial equality when they migrate across national borders.
Her book, "Women's Human Rights and Migration," examines legal regulations on migrant women in a comparative perspective focusing on India and the United States. She demonstrates how stereotypes and acontextual information have shaped certain regulations on women in the United States.
"I am inspired by Seattle U Law's commitment to social justice. Seattle University, the law school, and the city are ideal places for me to continue my work on technology, business, and human rights," she said.
In addition to her professorship at Cornell, Kalantry has two additional roles: she is director of online education, and serves as faculty director of the Cornell India Law Center, which promotes the study of Indian law in the American legal academy. She plans to launch a similar center at Seattle U Law upon her arrival.
"I hope to build connections between Jesuit and other universities and law schools in India and Seattle University," she said. "Indian students have a lot to gain from being in one of the great technology hubs of the world."
Kalantry earned her J.D. from University of Pennsylvania School of Law, a Master of Science in Development Studies from the London School of Economics, and a bachelor's degree from Cornell University. Prior to joining Cornell Law's faculty, she held a similar position at University of Chicago School of Law, and was a visiting lecturer at Yale Law School. Her legal practice experience includes stints as counsel at O'Melveny and Myers in Washington, D.C., and New York, and as an associate at Milbank, Tweed, Hadley, and McCoy in New York.