This story originally appeared in Lawyer, Fall 2016.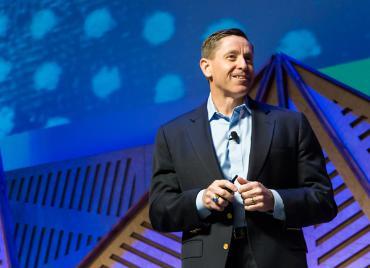 He's the CEO of a successful Silicon Valley cybersecurity company, but Mark McLaughlin swears he's not a technical person.
"I'm not a developer and I'm not an engineer. I was a political science and economics major," he said. "I've learned over the years how to relate to very smart technical people. I know what to do with what they do - that's my job."
And it's a job he does well. The 1994 graduate of Seattle University School of Law was recently named one of the 25 most influential executives of 2016 by the information technology magazine CRN. The company he leads, Palo Alto Networks, is an industry frontrunner with its next-generation security platform.
"No CEO in the security business has done a better job of fueling subscription and services sales growth for partners," CRN wrote. "Mark McLaughlin has Palo Alto Networks firing on all cylinders."
But if you had asked McLaughlin 28 years ago about his career plans, he would have predicted life as an Army pilot and officer. And 22 years ago, he would have predicted a traditional legal career with a law firm. Life isn't always predictable.
A Philadelphia native, he graduated from West Point in 1988, went to flight school, and flew Cobra helicopters for the U.S. Army, stationed at Fort Lewis near Tacoma. He was living his childhood dream. Then a helicopter accident left him with a badly injured back, a medical discharge from the Army, and a long and upsetting recovery. He wanted to stay near Fort Lewis, where his wife, Karen, was also stationed as a pilot, but what were his options?
"I spent some time working in the state legislature in Olympia and I met a number of people who were lawyers," he said. "From interacting with them, I could tell they were smart. I liked the way they thought about things." So, on to law school he went.
It was an excellent fit. He studied civil procedure with Professor Annette Clark '89, now dean of the law school, who was "the epitome of what I thought a law professor should be." He earned a prestigious internship with the International Trade Commission his first summer, edited the Law Review, and won the school's mock trial competition.
"Law school gives you the ability to take large problems and think about them logically, evaluate the alternatives, and draw logical conclusions," he said. "I've been using that skill set ever since I stepped out of school."
When a second summer internship at Preston Gates & Ellis led to a job offer, McLaughlin decided to take a chance on something completely different. It was the early '90s and technology was changing everything from travel to shopping. Drawn to the growing field of intellectual property, he convinced his wife that Silicon Valley was the land of opportunity. They packed up and moved with no job in sight.
"I just started knocking on doors," he said. "At that time there was such an imbalance of supply and demand that very young attorneys were given unbelievable amounts of responsibility. That's exactly what happened to me."
Work at a law firm led to an opportunity to go in house for a client. Five companies (such is life in the tech sector) and several promotions later, he joined Palo Alto Networks in 2011. Along the way, President Barack Obama appointed him to serve on the National Security Telecommunications Advisory Committee, which he now chairs. He and Karen settled in to Silicon Valley and raised three children - their daughter is a junior at Loyola Marymount University in Los Angeles, their oldest son is a senior at Bellarmine College Prep, and their youngest, Andy, is 6.
The tech industry is still bursting with opportunities for lawyers, McLaughlin said. Those with technical expertise can find fulfilling work in patent law, while others who prefer a fast-paced and rapidly changing environment might like intellectual property. The crucial area now is privacy and security, something Palo Alto Networks is working hard to ensure for its customers.
"The best business attorneys are the ones who understand that their job is not to highlight every single risk, but to provide enough input and advice for a business decision to be made," he said. "It's very easy to lay out all the risks, but it's much harder to figure out how to mitigate the risk so the business can move forward in a risk-adjusted way."