This story originally appeared in Lawyer, Fall 2017.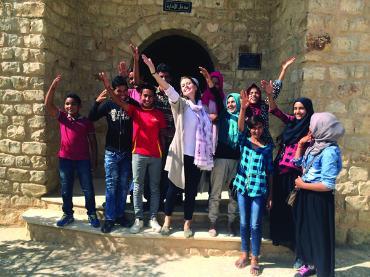 Courtney Erwin '05 almost didn't come to law school.
It was the summer of 2002. She lived in a hut on the Sinai Peninsula in Egypt, where she spent her days tutoring Bedouin girls and enjoying the nearby Red Sea beach. Her mom would call with periodic reminders: School starts soon ... it's time to register for classes ... you really have to come home now.
"I was worried that law school would turn me into a corporate lawyer, and just didn't feel that would be an authentic path for me," she said. "I had always connected the law with a career in human rights and social justice."
Fifteen years later, her Seattle University School of Law JD in hand, Erwin still works for social justice. She built an impressive career in international law, and went from tutoring young women to advcocating for the educational rights of girls and women around the world.
"The law school's social justice mission was like a beacon that flashed for me throughout my three years there," she said. "It kept me going."
The roots of Erwin's interest in international human rights go deep. Her dad was a pilot and her mom was a flight attendant, so travel to far-flung places like Turkey or China just felt normal to her growing up in Seattle. And in the eighth grade, a job shadow day with a family friend who was an attorney planted the seed for a law career.
As an undergraduate at Georgetown University, her close friendships with Middle Eastern students led her to study international affairs and eventually study Arabic while seeking a master's degree in Islamic studies at McGill University in Montreal, Canada.
Today she's a program specialist at the Mohamedian League of Religious Scholars in Rabat, Morocco, where she researches issues ranging from the implementation of human rights in Morocco to United Nations reform and provides guidance on counteracting violent religious extremism. Previously she served as the legal program manager at Education Above All in Qatar, where she worked to protect the rights of students in areas of conflict.
She also recently served as a consultant to the U.N. Office of the High Commissioner for Human Rights, conducting field visits in Palestine, Iraq, and Egypt to interview students, teachers, and community members about their perspectives of international law and their aspirations related to the right to education.
Erwin steered her legal education in the direction of international law from day one at law school, taking every possible class in that topic, attending guest lectures, and aiding asylum-seeking refugees while interning with the Northwest Immigrant Rights Project. As editor in chief of the Seattle Journal for Social Justice, she focused in particular on global issues, including an article she wrote about interfaith marriage in Egypt.
"I was trying to fill my world with international law," she said.
Erwin said her career has been replete with rewarding moments, especially when she has the chance to meet people, such as schoolchildren, that her work is meant to protect.
Most notably, she co-led an effort to develop international guidelines that protect schools and universities from being taken over by military forces during armed conflict. More than one-third of United Nations member states - 66 so far - have endorsed the guidelines and now include special instructions about school protection in their military training.
"I advocated for that project all around the world, so it was very rewarding to see it happen," she said. "We started with just the idea of it - we noticed this gap in the law that left schools vulnerable - and saw it through to the creation of the Safe Schools Declaration."
Professor Ron Slye, who specializes in international human rights, praised Erwin's work for building bridges across cultures. "Courtney illustrates exactly the sort of student that we see often at Seattle U - smart, dedicated, committed, and with a strong sense of justice that she brings to law school, nurtures, and then grows after leaving," he said.
As an American who speaks Arabic fluently and is deeply immersed in Islamic culture, Erwin knows how it feels to be pulled between vastly different worlds. Her American friends worry that terrorism makes her unsafe abroad. Her Moroccan friends worry the same thing about guns when she comes home.
She often shares poignant moments from her life in Morocco via Facebook. And in emails to her dad, aka "Maddog," she compares life lessons she learned from him with what she's learned from Islamic culture, whether it's the fine art of grammar, the wonders of stargazing, or the gift of modern medicine. Erwin also shares these emails on Facebook.
"I'm planning to write 40 of these emails, one for every year of my life," she said. "I try to make these connections with storytelling, because it humanizes people from different cultures in meaningful ways."