This story originally appeared in Lawyer, Fall 2021.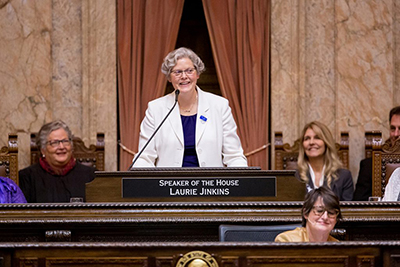 The law school and Seattle University Womxn's Law Caucus honored Rep. Laurie Jinkins '90, Washington's Speaker of the House, with the 2021 Woman of the Year award during on online ceremony in March.
In accepting the award, Jinkins reflected on her time in law school and called on others in the legal profession to welcome creative change and diversity. "Diverse voices always, always create better solutions for Washingtonians," she said.
Jinkins made history in January 2020 when she became Washington state's first woman and first out lesbian Speaker of the House. She represents the 27th Legislative District in Pierce County. Before holding elected office, she worked in health policy and was active in advancing Washington's anti-discrimination laws.
Jinkins began her legal career litigating child abuse and neglect cases for the state Attorney General's Office. She then shifted to public health, eventually serving as an assistant secretary of health at the state Department of Health, before taking the position of Director of Organizational Initiatives at the Tacoma-Pierce County Health Department, where she continues to serve.
The Womxn's Law Caucus also awarded students Peyton Jacobsen and Vanesa Hernandez-Rodriguez the Kellye Testy Scholarship in recognition of their leadership abilities. Majidah Cochran received the inaugural Justice G. Helen Whitener Scholarship, created in partnership with the Seattle University Black Law Student Association to uplift and honor law students dedicated to social justice and their communities.