This story originally appeared in Lawyer, Spring 2018.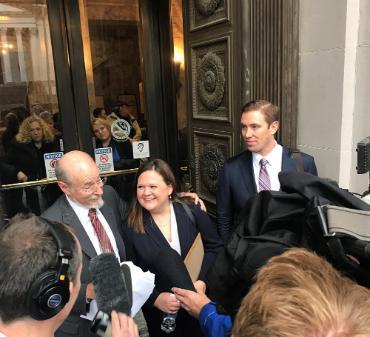 Tarra Simmons believes in angels. Many of them just happen to be lawyers.
Simmons graduated from Seattle University School of Law last spring. She excelled in class, received an elite legal fellowship, and served as one of the state's most powerful voices on criminal justice reform. But without the help and guidance of her angels, as she calls them, her life could have been very different.
Her past was marked by poverty, physical abuse, homelessness, teenage motherhood, substance abuse, and prison time for drug possession and distribution. Her present is a remarkably different story.
Simmons is now a leader in the legal community, advocating on behalf of people who were formerly incarcerated, sharing her story far and wide in hopes of a better life for herself and others in her position. She gained national attention in recent months when the Washington State Bar Association's Character and Fitness Board denied her application to sit for the Washington State Bar Exam on the basis of her criminal past.
Undaunted, Simmons appealed that decision to the Washington Supreme Court, winning in a unanimous decision that was handed down on the very same day as oral argument.
She was helped by, and now joins, many other law school alumni who are working hard on the cause known as reentry - or, removing barriers people face when they rejoin society after a criminal conviction or time in prison.
"I always had a fight in me for justice, even as a kid," Simmons said. "When I tell my story, it's for the people who can't."
A 2015 report from the American Bar Association tallied 45,000 distinct consequences that result from a criminal conviction. More than 60 percent relate to jobs - employers often won't hire those with criminal records - with the rest pertaining to barriers in securing housing, accessing public benefits, maintaining or rebuilding family relationships, voting, and pursuing an education.
The cumulative effect of these barriers is that people with criminal records find it nearly impossible to meet their basic needs of food and shelter without returning to criminal acts. Nearly one-third end up back in prison within three years.
"We are an unforgiving society," said Judge Sterling Johnson, Jr. of the U.S. District Court, Eastern District of New York, at a national summit on the topic. "If you borrow money from a bank and you pay it off, your debt is forgiven. If you get convicted of a crime in the criminal justice system, be it federal or state, you pay for the rest of your life."
Civil legal aid lawyers and policy advocates play an important role in working to make the system better, as Simmons found out with her network of angels.
Her first angel was Elizabeth Hendren '12, a third-year law student at Seattle U who co-founded the law school's Incarcerated Mothers Advocacy Project. She regularly visited the Mission Creek Correctional Center for Women to give legal presentations.
At the time, Simmons was serving a 20-month sentence on drug charges at the prison, and she felt helpless. Her then-husband had filed for divorce and she faced losing her home and custody of her two sons. Because she lacked the ability and resources to respond to this legal challenge, the court could have ruled against her by default. "There was no law library there, and I couldn't afford a lawyer," she said. "I would have lost everything."
As a law student, Hendren couldn't represent Simmons, but she helped her track down and fill out the appropriate paperwork, including a continuance that delayed her divorce settlement conference until after her release from prison. Simmons was able to retain custody of her children and even received alimony payments. Later, another law school alumna, Chelsea Hicks '08 of the Northwest Justice Project, helped her escape immediate eviction on her foreclosed home.
"There's an assumption that people in prison are throwaways," Hendren said. "But many of them are just like Tarra - so smart, so bright, so positive. If we could just give them a chance, a tiny little seed, they can run with it and accomplish great things."
Like Simmons, more than 60 percent of women in state prisons have a child under the age of 18. According to Hendren, helping incarcerated parents - which can include anything from maintaining legal custody to securing important social services such as housing or benefits - leads to successful reentry after prison because they've kept that bond with their child (or children) and are motivated to provide a better life for them.
Hendren continues her work with incarcerated mothers as a staff attorney at the Northwest Justice Project. She visits prisons and delivers legal presentations, as well as offering guidance to formerly incarcerated women at drop-in clinics.
"In my job interview, I was asked why I was best person for the job, and I said, 'I'm not the best person. A directly impacted person should do this work,'" Hendren said. "Now, with Tarra, I feel like there is someone."
To this day, Simmons remembers the promises she made to her sons when they visited her in prison. Because of her sons, she resisted the temptation to sell drugs again, even though she couldn't find work anywhere other than Burger King. "The underground economy was simply not an option," she said.
Simmons's story is a perfect example of how the challenges to reentering society begin long before a person is actually released. Children are taken away, jobs disappear, debts pile up, and mortgages or rents go unpaid. Behind bars, a person is helpless to stop most of it from happening.
Angeline Thomas '11, executive director of the social policy organization Washington Appleseed, said that the ideal time to start planning for reentry is the moment a person steps foot inside prison. Her organization will soon publish the Washington Reentry Guide, which will be available in prisons throughout the state and will help people prepare for reentry by providing answers to common questions and advice for overcoming obstacles.
The guide, developed in consultation with advocacy groups throughout the state, is presented in a Q&A format and features stories from formerly incarcerated people about the challenges they faced. The guide helps individuals know their rights, walks them through common forms they'll need to fill out, and points them in the direction of free legal resources.
"One in three people will go back to prison within three years because of all the barriers they're going to encounter when they come out," Thomas said. "These are human beings, they're parents, they have dreams. All of that is thrown away when we set them up for failure instead of success."
Thomas said the two biggest challenges that individuals face during reentry are obtaining housing and employment. If they owned a home but couldn't make mortgage payments while in prison, they could face foreclosure, just like Simmons did. If they seek out a new place, their criminal record often makes them ineligible for public housing. While they're eligible for private housing, they often face discrimination by private landlords.
And even though "ban the box" laws bar employers from asking about criminal history on job applications, the stigma of a conviction shuts out many people from job opportunities they need to support themselves.
In Simmons's case, even though she had a nursing degree and was able to get her nursing license back, she was turned down for jobs because of her record - even jobs where she would have no access to patients or pharmaceuticals.
Legislation backed by many of Simmons's lawyer-angels makes it possible for other people to get professional licenses back after incarceration. It's called the Certificate of Restoration of Opportunities Act, or CROP, and Simmons was the first recipient of CROP after its passage in 2016.
Carla Lee '05, deputy chief of staff for King County Prosecuting Attorney Dan Satterberg, worked closely on CROP legislation with advocates at Columbia Legal Services. The goal is to reduce recidivism by helping people return to the work they know best. As Satterberg once said, CROP is like the receipt someone gets for paying their debt to society.
As the point person for reentry issues in Satterberg's office, Lee also advocates for more educational and vocational opportunities in prison, supports legislation to help people vacate their criminal records, and encourages more companies to become "second chance employers."
"It's incumbent on prosecutors to engage in new conversations about what it means to create healthy and safe communities," Lee said. "We see it as part of our role as ministers of justice. We see it as the forefront of criminal justice reform."
Though the deck is often stacked against them, justice-involved people can prepare for employment after prison with résumé writing and job preparation workshops offered both in and out of prison by organizations such as Seattle Goodwill. Training helps with reentry, in part because people learn how to explain their situation and use their past experience as an asset. A Goodwill instructor worked with Simmons while she was still incarcerated.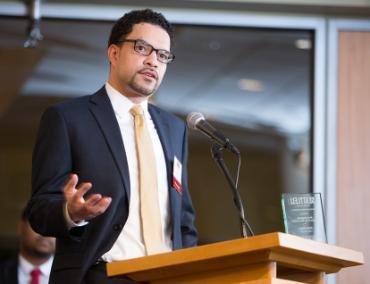 Goodwill CEO Daryl Campbell '11 said he's proud to share a law school with Simmons and echoes her belief in second chances. Seventeen percent of students in Goodwill job training programs have criminal convictions. Goodwill wants to help its students find self-sufficiency "no matter where people are starting from or how many detours they take," he said.
For many formerly incarcerated people, the path to self-sufficiency is blocked by debt, including debts related to their conviction. Legal financial obligations, or LFOs, are a tremendous burden on people trying to provide a life for themselves after prison. It's a problem that Nick Allen '10 has devoted his legal career to solving. He's another of Simmons's angels.
Courts impose fines and fees on criminal defendants, some of which are intended as restitution for the crime. Other fines are strictly punitive, and others are meant to cover court costs. The interest on these legal debts is a staggering 12 percent (new legislation is expected to change that), and that starts accruing even while the person is in prison and can't earn money to pay off the debts. If a person manages to find work after leaving prison, their wages can be garnished to pay LFOs.
Simmons, for example, left prison owing more than $7,600 in legal debts. With Allen's help as a staff attorney at Columbia Legal Services, she successfully requested that the court waive the interest on her debt. But even without interest and even after paying off some of the debt, Simmons's remaining LFO debt topped $5,000 and felt insurmountable.
By her second year of law school, she had started to share her personal story with legal audiences. One of her speeches was at a judicial conference, where she pleaded with judges in the room to consider whether defendants can realistically pay such steep fines and fees.
Her speech had a palpable effect, moving some in the audience to tears. Two days later, Simmons received a message that a judge who had heard her that day wanted to pay off $5,000 of her debt anonymously. Her remaining bill was just $49.
That kind of Cinderella moment is rare, which is why Allen continues his advocacy. When he graduated law school in 2010, few people understood the significance of LFOs. Working with Columbia Legal Services and the ACLU of Washington, he published a 2014 report titled, "Modern-Day Debtors' Prisons," which explained in disturbing detail how lingering debts keep people tied to the criminal justice system - and in some cases, land them back in prison for non-payment.
Allen's years of advocacy paved the way for a Washington Supreme Court ruling in 2015, in a case called State v. Blazina, which held that courts must consider a person's ability to pay when they impose discretionary fines. (Other fines are mandatory, which means most defendants still end up with some debt.)
"It's just a common sense approach," Allen said. "Up to 90 percent of people charged with felonies qualify for indigent defense, so we know they can't afford these fines. Courts are starting to recognize that it's futile [to impose them]."
In addition to his policy work, Allen and his colleagues run a reentry clinic through Columbia Legal Services, where they educate former defendants about their legal rights and occasionally take on individual cases to advocate for a person who can't pay.
"It's always nice to work with people who thought they didn't have any options, and guide them through the process," he said. "It feels good when you see the court wipe out $4,000 in debt that they didn't think was ever going to go away."
Simmons and Allen - once client and counsel - now advocate as a team for further LFO reform. Their latest effort is testifying on behalf of state legislation to reduce the interest rate on court-imposed debt and to allow more leniency for poor defendants.
For Tarra Simmons, facing and overcoming these many barriers is what inspired her to attend law school and become an angel for someone else. She currently holds a prestigious Skadden Fellowship, which funds her work on behalf of formerly incarcerated people. Gov. Jay Inslee also appointed her as co-chair of the Washington Statewide Reentry Council, where she continues to share her story and promote legislation that helps remove barriers for people like her. She also co-founded Civil Survival with Amanda DuBois '86. This organization teaches formerly incarcerated people about their voting rights and how to become effective self-advocates for policy change.
A powerful village of Seattle University School of Law alumni helped Simmons get where she is now, poised to begin a meaningful law career. She's ready to give back.
At every step of the way, Simmons reminds people that there are so many others who deserve the same help and opportunities she had. "I will be reentering for the rest of my life," she said. "I want nothing more than to carry my life experiences along with my newly found legal skills to liberate others who are hurting and simply in need of a helping hand."