This story originally appeared in Lawyer, Fall 2022.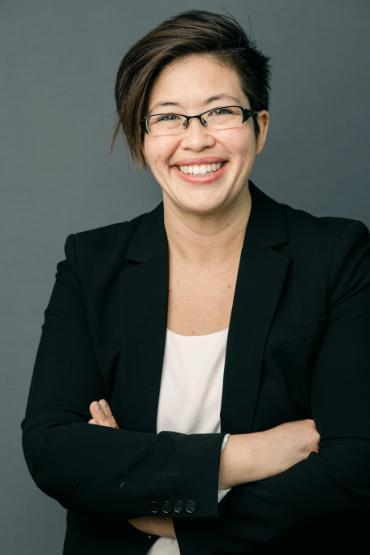 As one of the nation's top advocates for student debt relief, Persis Yu '09 takes a surprisingly hopeful lesson from the COVID-19 pandemic.
"The breadth of what feels possible has just exploded," she said. "Thinking big can bring meaningful change."
The pause on repayment of federal student loans, implemented in response to the widespread loss of income during the pandemic, lasted more than two years and brought welcome relief to nearly 40 million borrowers. It also elevated the discussion about how to ease the weight of that debt — a staggering $1.7 trillion — permanently.
"In some ways, the goal is to work myself out of this job," Yu said, laughing at the irony. "And right now, that doesn't seem so far-fetched. There is a real momentum and awareness developing."
Last fall, Yu became policy director and managing counsel at the Washington, D.C.-based Student Borrower Protection Center after 10 years with the National Consumer Law Center. She has testified before U.S. Congress, tirelessly lobbied White House and Department of Education officials, and written hundreds of essays about the need for debt relief through consumer protection laws, income-driven repayment plans, and prevention of unethical practices by loan servicers.
With her law degree, she has also provided direct representation to hundreds of borrowers on the brink of financial ruin when they default on loans or fall behind on their repayment schedules.
Yu traces her interest in consumer issues to her undergraduate studies with renowned antiracism scholar Beverly Daniel Tatum at Mount Holyoke College in Massachusetts. That led her to Seattle, where she earned a master's degree in Social Work at the University of Washington. While there, she began to investigate how race and class – as reflected in immigration status, chronic illness, housing instability, lack of health insurance, and so many other issues — affect a person's credit score, to devastating effect.
"It felt very central to the problem of how institutional racism gets played out in everyday life," she said. "And then that injustice is perpetuated in future financial decisions by your credit history."
Yu came to Seattle University School of Law as one of two Scholars for Justice in 2006, the first year of the signature full-ride scholarship. Diana Singleton '11, then director of the Access to Justice Institute, worked closely with the scholars.
"Having practiced consumer law at the Northwest Justice Project just prior to joining the law school staff, I was thrilled to meet with a student who was inspired to advocate for the consumer rights of people experiencing poverty," Singleton said. "It's been inspiring to see Persis bring her fierceness and deep commitment to social justice to her consumer advocacy work."
One of Yu's early victories was advocating for clearer language on a Department of Education form that allowed people with disabilities to cancel their loans. Thanks to a double negative in the sentence, doctors often filled out the form incorrectly. "There was a lot of lobbying that went into, frankly, just flipping a sentence," she said. "But it had a tangible impact on people's lives."
These days, her passion is tax credits. When borrowers default on loans, the federal government can rescind their Earned Income Tax Credit (EITC). For many families, that tax credit provides essential relief, not just extra money in an annual tax refund.
Yu could see her advocacy having an impact on the national discourse when even conservative think tanks agreed with protecting the EITC.
"I would like to live in a world where student debt does not exist, where we can figure out a different way to finance higher education," she said. "But until then, there are goals along the way we can achieve to make things better."