Woman of the Year 2023
Join us as we honor Judge Janet Chung of the Washington State Court of Appeals, Division 1.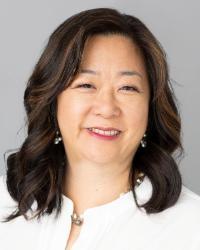 Seattle University School of Law and the Womxn's Law Caucus, a student group dedicated to the support and development of womxn as active and successful members of the legal community, present this annual award.
The reception will also feature presentations of two scholarships: Washington Women Lawyers and Womxn's Law Caucus Kellye Testy Scholarship and the Womxn's Law Caucus and Black Law Students Association G. Helen Whitener Scholarship.
Judge Janet Chung was elected to the Washington State Court of Appeals, Division 1, in November 2022 after being appointed by Governor Inslee earlier that year.
Prior to joining the bench, Judge Chung served as advocacy director of Columbia Legal Services (CLS), where she led policy advocacy and impact litigation on behalf of people living in poverty. She helped CLS strategically refocus to better serve populations ineligible for traditional legal aid, including people who are incarcerated or who lack U.S. legal status. During her tenure, CLS also launched an innovative community engagement program.
She is a past president of Washington Women Lawyers and served as a member of the City of Seattle's Labor Standards Advisory Commission, Asian Pacific Islander Americans for Civic Empowerment, and the City of Seattle's Gender Equity in Pay Task Force.
Judge Chung began her career as a law clerk to a federal trial judge in Houston, Texas, followed by a Georgetown University Women's Law and Public Policy fellowship in Washington, D.C., and private practice in D.C. and Seattle. She is a graduate of Yale University and Columbia University School of Law. Judge Chung is a daughter of Korean immigrants, a first-generation lawyer, and a proud mother of two sons.
Sullivan Hall, Second Floor Gallery